Ocala, FL – Fatal Motorcycle Accident at FL-40 and 113th Terrace
Orlando Legal News
Ocala, FL (October 9, 2020) – Around 6:40 a.m. on Friday morning, October 9, a fatal motorcycle accident took place at an intersection in Ocala.
According to the Florida Highway Patrol, the crash took place at the intersection of FL-40 and 113th Terrace. A dump truck driven by a 57-year-old Ocala man made a sudden U-turn in the roadway, entering into the path of a motorcycle.
Police confirmed that the motorcyclist, identified as a 45-year-old man from Dunnellon, ran into the side of the truck with force. He was thrown from his motorcycle and died at the scene of the accident.
The roadway was closed down in multiple lanes as police worked to clear the scene.
The investigation into the circumstances of the accident continues.
We would like to offer our deepest condolences to the family of the deceased victim at this time.
Motorcycle Accidents in Florida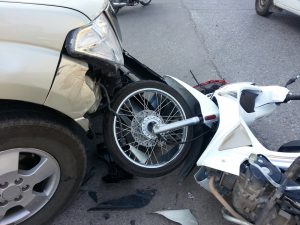 Motorcycle accidents are becoming increasingly more common on Florida roads. In one recent year's time, it is estimated that approximately 10,000 accidents took place in the state of Florida. Out of these accidents, hundreds of victims lost their lives due to the outright negligence of others. Motorcyclists are some of the most vulnerable parties on our roads due to the fact that they have few protections from harm against much larger vehicles. This means that victims are more likely to experience life-altering injuries and even lose their lives. If you have lost a loved one in a motorcycle collision and believe another party is to blame, it is important that you speak with an accident attorney.
Losing a loved one in a motorcycle accident might be one of the most difficult things that you have ever experienced. As you grieve the loss of a loved one, however, you may wonder how you will keep up with the bills. Florida motorcycle accidents happen in the blink of an eye and lead to many losses that victims are not always prepared for. If you have suffered these unimaginable losses and you are unsure about where you can turn, you should always be prepared to speak with a wrongful death attorney in your time of need.
At Vaughan Law Group, our accident attorneys in Florida are here to protect your rights after you have lost a loved one in a Florida motorcycle accident. We believe that families should never have to worry about how they will afford to pay the bills after they have already dealt with the traumatic loss of a loved one. We will help you work toward compensation for aspects like medical expenses, funeral costs, pain and suffering, and more. You have options and should never have to stand alone. Please do not hesitate to contact an accident attorney at (407) 648-1426 to find out how we can help you.
Note: The information available within these posts has been supplied from outside sources for use by Vaughan Law Group. As such, all information has not been independently verified but has instead been gathered from news bulletins and other secondary sources. If any of the information listed within is incorrect or you would like to have the post removed, please contact our law firm as soon as possible so that we can make corrections or remove the post.
 Disclaimer: At Vaughan Law Group, our attorneys wish to provide useful information to families who have found themselves in similar situations after an accident. We would also like to honor victims who have received injuries or have lost their lives in Florida accidents. The photographs depicted in these posts are not representative of the actual accident scene.