Orlando, FL – Officer Involved in Car Crash at E Colonial Dr and Hughey Ave
Orlando Legal News
Orlando, FL (October 29, 2020) – Around 4 p.m. on Monday, October 26, an officer was involved in a car crash that took place in Orlando.
According to the Orlando Police Department, the accident occurred at the intersection of East Colonial Drive and Hughey Avenue. An officer was responding to an emergency call at the time and had their lights and sirens on. A driver suddenly started to exit I-4 and crashed into the front of the police cruiser.
Both of the vehicles were significantly damaged as a result of the accident. The civilian vehicle was taken away on a tow truck.
Both the officer and the civilian were hospitalized with injuries. They are both expected to make a full recovery.
Due to the severity of the accident, numerous lanes of traffic were blocked for an extended period of time. Drivers were asked to use East or West Colonial Drives as alternate routes.
The investigation into the circumstances of the collision continues.
Our thoughts are with the injured victims and their families in hopes of a full recovery.
Car Accidents in Florida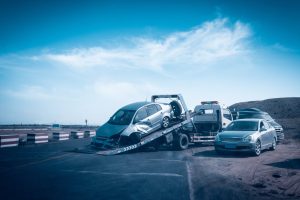 In just one recent year's time in the state of Florida, over 254,000 people were injured as a result of accidents. These accidents happen in many different areas but intersections are among the most common places. In one recent year's time, over 2.5 million intersection accidents took place due to the negligence of others. These accidents take place due to many different reasons including distracted driving, drunk driving, speeding, and more. Being injured in a car accident can have a huge impact on your life. It is important that you have the skilled help of an accident attorney on your side after an accident that is not your fault.
Florida car accidents happen every hour of the day due to many different reasons. Car accidents are actually one of the leading causes of hospitalizations within the entire state of Florida. These accidents lead to many serious injuries including spinal cord injuries, TBIs, broken bones, and so much more. Many victims will spend time in the hospital and might miss out on work after an accident that is not their fault. If you have been injured in a collision and wonder where you can turn, please contact a Florida personal injury attorney to find out how we can help you.
At Vaughan Law Group, our skilled accident attorneys are here for you after an accident that is not your fault. Your life could be forever altered due to an accident that is not your fault, keeping you from work and activities that you once enjoyed. It is imperative that you have an attorney by your side every step of the way as you work toward compensation. Please contact an accident attorney in Florida at (407) 648-1426 to find out what options are available for you.
Note: The information available within these posts has been supplied from outside sources for use by Vaughan Law Group. As such, all information has not been independently verified but has instead been gathered from news bulletins and other secondary sources. If any of the information listed within is incorrect or you would like to have the post removed, please contact our law firm as soon as possible so that we can make corrections or remove the post.
 Disclaimer: At Vaughan Law Group, our attorneys wish to provide useful information to families who have found themselves in similar situations after an accident. We would also like to honor victims who have received injuries or have lost their lives in Florida accidents. The photographs depicted in these posts are not representative of the actual accident scene.