Winter Garden, FL – One Killed in Fatal Collision on Florida's Turnpike
Orlando Legal News
Winter Garden, FL (July 9, 2020) – Around 11:30 a.m. on Wednesday morning, July 8, one person was killed in a fatal collision in Winter Garden.
According to police with the Florida Highway Patrol, the crash took place when a vehicle slammed into a semi-truck at a tollbooth on Florida's Turnpike.
The semi-truck was stopped in the southbound lanes and speaking with an attendant when a vehicle failed to stop in time, causing it to strike the trailer of the truck.
A passenger in the vehicle, who has not yet been identified, was pronounced dead at the scene of the accident.
The accident caused numerous lanes to be closed due to its severity. Police continue their investigation into the collision.
We would like to offer our deepest condolences to the family of the deceased victim at this time.
Fatal Truck Accidents in Florida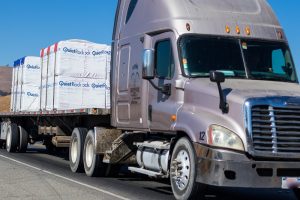 Truck accidents are some of the most catastrophic accidents that take place on Florida roads. In just one recent year's time, over 3,000 lives were taken due to Florida accidents, with a large percentage involving large trucks. Because of the size of these vehicles, accidents are more likely to lead to catastrophic results. If you have suffered losses due to a Florida truck accident, it is essential that you speak with a wrongful death attorney in Florida who has handled cases like these in the past.
At Vaughan Law Group, our accident attorneys in Florida have dedicated ourselves to helping those in need after life-altering truck accidents. For surviving family members, it is not easy to move forward as you are grieving and attempting to keep up with the bills left behind by the tragic loss of your loved one. Luckily, you have options and do not have to stand alone. Please contact an accident attorney in Florida at (407) 648-1426 for more information on how we can help you.
Note: The information available within these posts has been supplied from outside sources for use by Vaughan Law Group. As such, all information has not been independently verified but has instead been gathered from news bulletins and other secondary sources. If any of the information listed within is incorrect or you would like to have the post removed, please contact our law firm as soon as possible so that we can make corrections or remove the post.
Disclaimer: At Vaughan Law Group, our attorneys wish to provide useful information to families who have found themselves in similar situations after an accident. We would also like to honor victims who have received injuries or have lost their lives in Florida accidents. The photographs depicted in these posts are not representative of the actual accident scene.