Common Truck Accident Injuries In Florida
Vaughan Law Group
According to the Federal Motor Carrier Safety Administration (FMCSA), the top ten states that had the most fatal large truck and bus crashes during the timeframe between 2014-2016 were:
California

Texas

Illinois

Indiana

Ohio

Pennsylvania

New York

Florida

Georgia

North Carolina
Of all fatal crashes in these states during those 2 years, 51% involved at least one truck or large bus and 51% off all Fatality Analysis Reporting System (FARS) fatal crashes also involved a truck or bus. 
In Florida, specifically in the central portion of the state, truck accidents are common. Due to the large size of these vehicles, and especially on highways when they are driving at a high rate of speed, accidents that involve a truck will have devastating outcomes. When a truck driver loses control of their vehicle, the damages around them on the road are widespread and most often, fatalities will result. 
When you are on the road, if a truck slams into you and causes you injuries or if a loved one dies as a result, you have legal rights that deserve to be protected. The Florida truck accident attorneys at the Vaughan Law Group can help. You will want the most experienced team of attorneys representing your best interests because the injuries that are most commonly suffered from trucking accidents are severe. Our group is AV rated by Martindale Hubble and we have over 25 years of representing victims in the state of Florida who have suffered damages from trucking accidents.
What Are The Most Common Truck Accident Injuries?
Spinal injuries including herniated discs, lumbar spinal trauma, and paralysis and treatment for these injuries will often include at least one surgery if not more.

Chemical and fire burns from toxic materials being transported by the truck that spill out after an accident, these materials can also be highly flammable causing massive fires that lead to extensive burn injuries. Severe burn injuries take a long time to heal and often lead to disfigurement and widespread scarring.

Broken bones, strained muscles, lacerations, open wounds, muscular tears, bruises, and scarring take place when there is tremendous impact as would be seen in a trucking accident.

Head trauma that damages the brain by fracturing the skull, concussions, comas, traumatic brain injuries (TBI), and these horrific brain injuries pose life-long challenges for victims.
When Do Truck Accidents Take Place?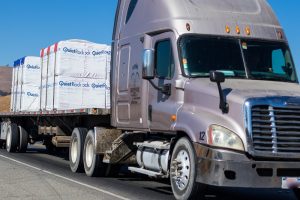 Statistics show that rural areas are the most common regions where trucking accidents occur. When they happen, they mostly take place during the day. One reason is that in cities, with more vehicles and police managing traffic, truckers tend to drive more cautiously. They also tend to drive slower. Rural areas are more open and offer more space to drive at excessive speed and there are fewer traffic distractions to be alert to. Long stretches of open roads and long hours driving will lead to truck drivers using their time on rural roads engaging in distracted driving behaviors such as:
Texting

Eating and drinking

Talking on the phone

fatigue
Have You Been Injured In A Florida Trucking Accident?
You will need the most compensation for your injuries and damages when you have been in a trucking accident that was not your fault. The Florida personal injury attorneys at the Vaughan Law Group will help you by fighting to ensure you obtain a fair settlement. 
Call our team of Orlando semi-truck accident injury attorneys at (407) 648-1426 to speak with a legal professional that can advise you on your best path forward for pursuing a personal injury claim during a free consultation.